In 2001 the best school trophy was awarded by Mr. G.G. Porwal.
The school also secured another first prize for the best school and the best Principal for the inspection conducted by Mahatma Phule Shishanik Gunvanta Vad Va Vikas Abhiyan Sangha.
Since 2001 Mrs. Samuel Memorial Cash award is given to the student who sores highest marks in SSC examination. Like minded awards and scholarships from well-wishers are welcome.
Since 2007 the school has been given A grade by Maharashtra State Board for laudable performance. Every year, the school is awarded the Maharashtra State Board Certificate for 100% results.
The inspection remark is excellent every year.
In the year 2013 Akhil Bharatiya Vikas Kendriya Aurangabad awarded the active school, active Principal and active teachers awards.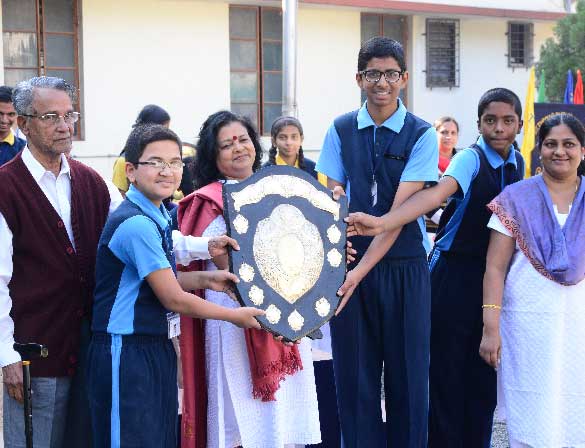 The school captured police trophies consecutively for 8 years at the Regional level RSP competition in PCMC area.
School years are an important phase of a child's education. Ample opportunities to compete in competitive exams namely NSTSE, Science, Maths, Computer, History, MTS, Camlin Colour and Handwriting competitions are encouraged. Participation in interschool competitions English Elocution, Quiz and Science exhibition is stressed on.
Children participate in IUCCA workshops, seminars and educational trips and picnics.